Monday, December 14, 2020
The new
Tobin Center for Economic Policy
, named in honor of beloved former faculty member James Tobin, has joined the Cowles Foundation and the Economic Growth Center as a third major center affiliated with the Department of Economics. The Tobin Center brings a distinctive focus on applied domestic economic policy in the United States. With an emphasis on empirical economics and data-driven analysis, the Tobin Center seeks to bridge the gap between Yale economics research and real-world policy impact. The new building that will house the Tobin Center is scheduled to open in spring 2023, but its work is already underway. In this inaugural phase it has already begun advancing the Tobin Center's key goals: expanding data-intensive and policyrelevant research at Yale and bringing it to the policy arena.
RESPONDING TO COVID-19
The COVID-19 pandemic presented an acute and real-world test for center's theory of change: that there is demand among Yale faculty and students to address pressing policy issues facing society and that a center could play a central role enabling critical research and bringing it to the media and policymakers. In early March, the Tobin Center rapidly pivoted to responding to the COVID-19 crisis.
To date, the center has supported over 20 pathbreaking faculty research projects, responded to dozens of government requests for technical support, and mobilized over 200 student and faculty volunteers to serve in response to the crisis. The center has also won expansive media coverage for these efforts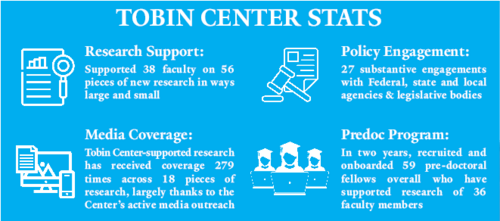 The Tobin Center supported and mobilized the Yale Economics community to address an array of economic and social challenges spurred by the pandemic.
Taking on the virus
Tobin Center leadership served as early and visible advocates for a greater federal role in directly taking on the virus in order to address our economic crisis. This follows a near consensus opinion among economists that there is a very high benefit-to-cost ratio of anti-virus spending on testing, tracing, protective equipment, therapeutics, and other measures.
Faculty Director Steven Berry and Associate Faculty Director Zack Cooper
published op-eds in the
Washington Post
and
Politico
making this argument and engaged extensively with senior White House, Senate and congressional staff, contributing to some material policy results, including the decision to increase Medicare reimbursement rates for testing.
Bringing clarity to the national unemployment debate
The center launched a data lab overseen by departmental faculty in labor economics (Professors
Altonji, Meghir, Washington, Lindenlaub, O'Dea, Humphries
) to answer the empirical question of whether the $600 Unemployment Insurance expansion reduced employment (the answer: not in the unique context of the pandemic). The first and most frequently covered study of its kind by national media (covered multiple times by the
Wall Street Journal
,
Washington Post
,
New York Times
,
ABC
,
CBS
, and
NPR
), Yale Economics has become a leading academic voice in the national debate on the issue.
Uncovering a major risk in nursing homes
The center supported Judy Chevalier's research showing a major driver of infections in nursing homes is shared staffing across homes. Using cell phone mobility data, Chevalier's work shows this phenomena drives 44% of nursing home infections (and therefore a substantial portion of all COVID-19 deaths in America). The research is now informing direct engagement with government that has potential to save lives.
Enabling the nation's largest study on COVID-19 and childcare
Childcare is critical to America's ability to return to work. Notwithstanding minuscule risk to young children, parents and providers are understandably concerned about transmission from young children to adults in childcare settings. The Tobin Center was a lead contributor to an interdisciplinary study co-authored by Prof. John Eric Humphries and faculty from the Schools of Medicine and Public Health.
The study shows children in childcare programs present no significant risk to adults. Published as a feature article in Pediatrics, the research findings have been broadly covered in the national media, including the Wall Street Journal, The New York Times (twice), The Washington Post, The LA Times, NPR, an NBC's Today show). Economics students played critical roles cleaning and analyzing the data from 57,000 provider surveys, part of what is thought to be the largest occupational-epidemiological study ever conducted.
Advancing real-time knowledge to inform policy response
Rapidly changing conditions call for research to generate answers about current conditions more quickly. Tobin has supported faculty research towards this end. Highlights include:
Prof. Bill Nordhaus's creation of the Yale Labor Survey, which uses online panels and advanced statistical techniques to provide a view of American employment more quickly than federal sources. 
 
Prof.  John Eric Humphries' work on what was likely the earliest and longest running academic study of small business sentiment during the virus, shedding light on the pandemic's severe impact on U.S. small businesses.   
 
Use of cell phone mobility data by Professors Eli Fenichel, Kevin Williams, and others to surface distinctive movement patterns that may inform our response to the virus.
The Tobin Center also continues to support work in other issue areas. It also continues to help create the conditions at Yale that enable more policy-relevant, data-driven work, notably through our investments in data and our pre-doctoral fellows program.
The mission of the Tobin Center – bringing to bear the considerable intellectual resources of Yale Economics on domestic policy – is as relevant as ever. The newest and smallest of the three centers in the department, the Tobin Center team hopes to sustain its efforts and seek new ways to support faculty and students for impact in the years to come.