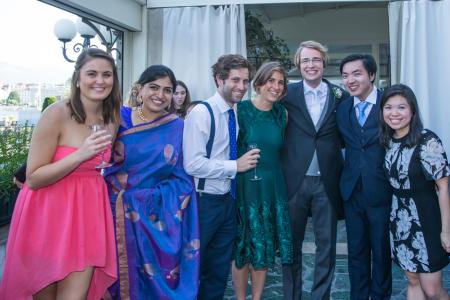 Across and within cohorts, IDE alumni have always continued to stay in touch, work together and meet up - even years after graduation. IDE  alumnae are a family of people who are open minded, have a common interest in development-economics and an international outlook on current policy issues. 
We encourage you to join the Official Yale IDE Alumni Group, where you'll find jobs and career opportunities, items of interest to those in the development policy community, as well as connections across the many years of IDE. 
The Yale Alumni Association also encourages you as alumni and members of the Yale community to join the Yale Online Alumni Community, where you can:
search for Yale friends, classmates or colleagues in the alumni directory
expand your profile to include your personal and professional affiliations
add feeds from your LinkedIn and Facebook profiles
Please email us at ide@yale.edu to be included in the list below.
2020

Jasmin Baier

Arianna Blanco

Zhuoran Chen

Sanjam Chhabra

Shwetha Eapen

Yijia Gao

Valentina Goetz

Pablo Gordillo Coutino

Rhea Gupta

Preksha Jain

Sambath Jayapregasham

Mark Khalil

Scott Kim

Ernest Lim

Dalton Mattson

Anshul Maudar

Vatsal Nahata

Michael Read

Jaya Sambhavi

Shreemayi Samujjwala

Nishka Sharma

Brian Shih

Preetha Srinivasan

Nithya Srinivasan

Leo Sun

Shambhavi Tiwari

Astha Vohra

Dalton Zhang
2019

Raphaëlle Aulagnon

Mitali Banerji

Iti Bhargava

Gretchen Bueermann

Luis Eduardo Castillo

Sofia Caycedo

Tianyu Fan

Xiaoya Gao

Sakshi Hallan

Lu He

Sifan Jiang

Masakazu Kumakura

Daham Lee

Jianhong Liu

Rene Livas

Vicky Luo

Bryan McCann

Prema Narasimhan

Maxine Ow

Selen Ozdogan

Aishwarya Patil

Hassan Saad

Navreen Sandhu

Rituparna Sanyal

Koki Sera

Parshv Shah

Nikita Sharma

Yasuka Tateishi

Wen Wen Teh

Yuan Tian

Supraja Vadlamani

Bella Yao

Dolly Yu
2018

Emilia Abusada Raguz

Camron Aref-Adib

Shivika Bhasin

Anwesha Bhattacharya

Helen Chang

Gary Chew

Nien June Chiang

Noriyoshi Fukuoka

Shu Fukuya

Carole Gao

Hiroaki Imai

Matthew Kang

Eleanor Carys Jerram Keeble

Ayesha Khan

Qiaoxi Li

Ruiting Liang

Pariroo Rattan

Mariana Sans

Mansa Saxena

Raychel Schwartz

Lachi Singh

Ruoxuan Wu

Kaiyi Ye

Xueyan Yin

Xiaozhou Zhao
2017

Nina Bartmann

Felicia Choo

Tan Yang En

Chuba Ezekwesili

Patrick Greenfield

Samantha Horn

Chris Hoy

Dana Lisk

Yuqing Luo

Paula M. Meloni

Poli Maryline Natama

Suwaree Panichnava

Marie Sophie Pocha

Krishna Ramesh

Hansen Sun

Claire Taberlet

Teh Guo Pei

Yilin Tian

Juliane Wiese
2016

Maja Capek

Sebastian Kriticos

Sulyn Lai

Toni Joe Lebbos

Sarah Lum

Mohak Mangal

Shirin Nikaein Towfighian

Nicolas Powidayko
2015

Nina Caroline Buchmann

Amanda Dahlstrand-Rudin

Layane El Hor

Virág Forizs

Lavanya Garg

Aashna Jamal

Nikita Kohli

Chris Nadine Kranzinger

Rahel Kroeker

Raja Panjwani

Tej Parikh

Timothy Toh

Andres Yi Chang
2014

Akshay Govind Dixit

Michael Kaiser

Priyanka D Kanth

Radhika Lokur

Nirav Shah

Yoshiyuki Tominaga
2013

Rahul Ahluwalia

Rini Aich

Susanna Berkouwer

Shweta Bhogale

Carmen Easterwood

Nisma Elias

Nidhi Sunil Parekh

Ting Wang
2012

Yan Min Chia

Hideto Koizumi

Yong Long Lim

Fabian Lorenz Schrey

Faraz Usmani

Jiarui Wang

Eleanor Wiseman
2009

Howard Liu

Nestor Morgandi
2008

Shun Chonabayashi

John Chung-En Liu
2005

Lea Hakim

Pang-Yen Bryan Lou