About Us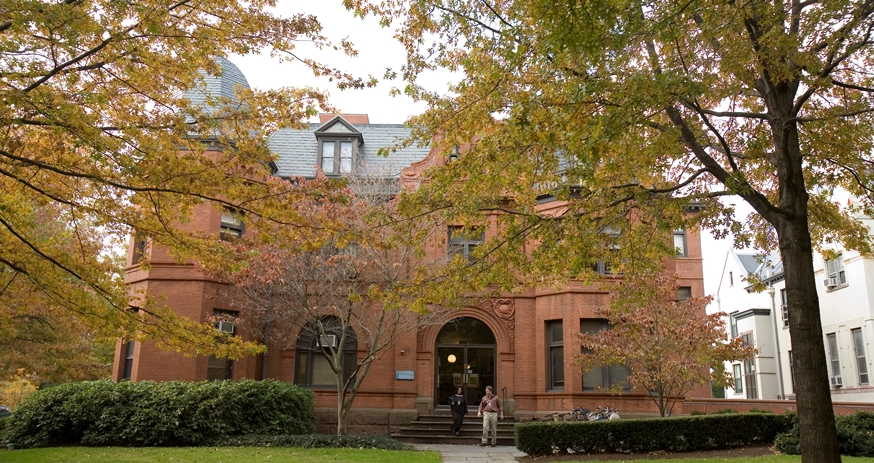 The Yale Department of Economics was created in 1937 with the merger of Sheffield Scientific School and Yale College to form the Yale Faculty of Arts and Sciences. Since then, the Department has grown into one of the premiere Economics departments in the world,  employing over 45 ladder faculty, and offering over 100 undergraduate courses and over 75 graduate courses. Having the largest contingency of majors, much of the Department's success can be attributed to the world-class faculty it attracts.  In fact, four faculty members have won the Nobel Prize in Economics since it was established in 1968, including Tjalling Koopmans (1975), James Tobin (1981), Robert Shiller (20013), and most recently, William Nordhaus (2018). 
The Department has close ties with professional schools in related fields, such as the Yale School of Management, the Yale School of the Environment, and the Yale School of Public Health, where many of its secondary faculty members teach. It also works with affiliated centers, including the Cowles Foundation for Research in Economics, the Economic Growth Center, and the newly created Tobin Center for Economic Policy . The Tobin Center for Economic Policy will help to complete James Tobin vision of bringing economic policy programming to the department. 
A brief history of the Department was witten by M. Ann Judd, former Business Manager/Research Associate Economic Growth Center, titled "The Yale Economics Department: Memories and Musings of Past Leaders." The following are excerpts from the piece written in 1999.
The Yale Economics Department:
Memories and Musings of Past Leaders
The history of the Yale Economics Department is more than a collection of dates and facts and is probably best told by those who lived it, were changed by it, and, in turn, shaped it. Among the important players in this history were James Tobin, Richard Ruggles, William Parker, Merton J. Peck, Richard Levin, and William Brainard. Their reminiscences give a flavor for the department over the past 50 years. Each man brought special talents and qualities to the department; each has taken away a unique set of memories of the people and events that defined the department for him. Within each unique set of memories, however, some common threads emerge: Lloyd Reynolds' important contributions to building the department from being second-rate to one of the strongest in the country; the arrival of the Cowles Foundation and its impact on the department; the creation of the Economic Growth Center; the turmoil of the sixties; the downsizing in the seventies and eighties; and the many factors that give Yale's Economics Department its distinctive character.
Introduction
The history of the department has been set forth by Lloyd Reynolds in "Economics at Yale, 1940-1990." According to Reynolds, bothy the study of economics and the department itself have undergone major changes since the teaching of economics at Yale began with the appointment of Irving Fisher in 1891. Many of the changes in the department began around the time that Reynolds himself joined the department in 1945. The department of the 1920s and 1930s lacked a clear identity due in part to the fact that some of the "economics" faculty were members of the Department of Political and Social Science (which included several sub-disciplines – economics, government, anthropology and sociology), and some were members of a small Department of Applied Economics at the Sheffield Scientific School. These applied economists generally did not have formal training in economics and were more business and practically oriented. In 1937, a major restructuring of the university merged the faculties of Sheffield and Yale College into a single Faculty of Arts and Sciences under a single dean. This process resulted in the creation of a separate Department of Economics, which brought together economists from the Department of Political and Social Science and applied economists from Sheffield.
Although there was a group of younger economists in the department in the mid-1940s, which included, in addition to Reynolds, John Miller, Max Millikan, Harold Williamson, and Ralph Jones, the decision-making in the department was dominated by what Reynolds refers to as the "ice cap." This group consisted of older, conservative professors, eulogized by William F. Buckley, Jr. in his God And Man At Yale, who were prone to regard younger economists as being dangerously liberal. However, they had control over appointments and promotions, which meant that the atmosphere for junior faculty at Yale was relatively discouraging. In the forties, the power of the "ice cap" began to melt, and Kent Healy, who was chair in the mid- to late-1940s, began the process of strengthening the department. In the early postwar period, he brought in a very strong group of younger faculty members, many of whom were later to make major contributions to the department: Neil Chamberlain; Challis Hall; Charles E. Lindblom; Warren Nutter; Richard Ruggles; and James Tobin.
Reynolds describes the period between 1950 and 1965 as one of great expansion. During this period, the number in professorial ranks tripled, the annual expenditures for teaching and research increased from $118,000 in 1951-52 to over $1 million in 1965-66, and the department achieved a ranking of either first or second in the country. Also during this period the Cowles Foundation moved to Yale, very strong faculty members were recruited, the Economic Growth Center was founded, and there was an abundance of foundation money.
In 1951, the department had five full professors; by 1954 there were eleven. This was made possible by three outside appointments (Henry Wallich, Robert Triffin, and William Fellner) and three internal promotions (Richard Ruggles, James Tobin, and Ralph Jones). Between 1952 and 1957, fifteen assistant professors were appointed, an average of three per year. All fifteen of these junior faculty members were from outside Yale because at that time the department's Ph.D. program was not very strong.. By the end of the fifties, the department had a large and strong group of junior faculty, only two of whom ended up staying at Yale over the long run. The main reason faculty were lost was that they were lured away by competing institutions.
The year 1965 marked the peak of departmental strength: economics was one of the largest undergraduate majors; the graduate school admitted approximately 30 prospective economists of high quality each year; the M.A. program for government economists from developing countries was flourishing; Cowles and the Economic Growth Center were important and firmly established parts of the department; and invitations to join the faculty were rarely turned down. Only two issues clouded an otherwise positive picture: 1) the unbalance in the department that was the result of the faculty's being heavily weighted toward theory and mathematical economics but being weak in some applied fields; and 2) the perceived and sometime actual inequality between department members who were affiliated with either Cowles or the Economic Growth Center and those who were not.
The period between 1965 and 1990 is described by Reynolds in three words: consolidation; decline; and recovery. By 1980, the department was ranked toward the bottom of the "top ten." The quality of the graduate student body declined in part because top undergraduate students were choosing graduate programs in law, medicine, or business over Ph.D. programs. The department also lost many of the best applicants to Harvard and MIT. The university itself also went through a period of consolidation during this time, which had an effect on all departments. Government and grant money became more difficult to obtain, which in turn led the department to cut back on faculty. Finally, the department lost and had trouble recruiting faculty replacements during this time for three major reasons: 1) New Haven was not viewed as being a desirable location; 2) the area had limited opportunities for two-career families; and 3) internal disagreements often prevented appointments from being made. Actions taken in the late 1980s ameliorated the situation somewhat, and a few strong junior and senior appointments have brought the overall quality of the department back to its mid-1960's level.
Memories and Musings
Richard Ruggles, Professor of Economics
During the 1950s, Lloyd Reynolds was building up the Economics Department at Yale. He recruited Robert Triffin, Henry Wallich, and William Fellner. The Yale Economics Department was becoming known for the quality of its faculty. At that time, the Cowles Commission at the University of Chicago was unhappy with their arrangements there and approached Lloyd about coming to Yale. The arrangements for bringing Cowles to Yale were made in 1955, with Tjalling Koopmans and Jacob Marschak being appointed as Professors in the Economics Department. As part of the agreement, the Econometric Society also moved to Yale, and I agreed to serve as Secretary, with Nancy as Treasurer.
James Tobin, Professor of Economics
One thing that the department needs, in my opinion, that the university needs, is some kind of center of policy research, some group of people or organization that could concern itself with public policy, public economic policy in particular, but it wouldn't need to be confined to that. Most of our rival institutions do have such an institution. There's the Woodrow Wilson School at Princeton, Kennedy School at Harvard, Center for Economic Policy at Stanford, and so on. But we don't have anything like that, and, as I said earlier, we are missing that. We do have a great collection of theorists here; we have the most powerful collection of econometric methodologists and a lot of what our students do is the technical stuff, formal theory, etc. They do not have enough, at least to my taste, interest in what's going on in the world. We're unlike our rival institutions (Berkeley, Stanford, Harvard, Princeton) in this respect, and I think we should try to do something about that. We have joint majors between economics and political science, economics and ethics, and so on that are very popular with undergraduates. We don't have anything parallel to that at the graduate level. It would be natural to do that. There are people here who are individually quite involved in this – YCIAS is the closest thing we have to that, and it's very important. It has made a very big difference to have that. But there should be a center that is broader than that to include things besides development and international economics.
Merton J. Peck, Thomas DeWitt Cuyler Professor Emeritus of Economics
The department has had a tradition of trying to pay attention to undergraduates. I'm not sure now that we're much different from our rivals, but when I came here that was always a strong point. Economics is not an easy major because all students have to take theory and econometrics, which are very demanding courses. The number of economics majors over the last five years has doubled – from 100 to 200 – and we've gone from third or fourth to being the largest major. 
Richard Levin, Frederick William Beinecke Professor Emeritus of Economics, and former President of Yale University
One thing often not noticed when one thinks about the department and its position relative to other departments is the extraordinary quality of our undergraduate alumni. I have had at least as many, if not more, senior essay students who have ended up as outstanding economists in positions in major departments as I have had graduate students. Typically these students do their undergraduate work at Yale and then go on to MIT or Harvard, occasionally to other places. The department has had a fairly rigorous approach to undergraduate education in economics. I hope that's still true, but I have noticed numbers increasing, which is worrisome. It was true in the 70s and 80s that enrollments in some competing institutions for undergraduate economics majors were much larger than at Yale, but that was at the expense of rigor in the programs. Economics was often an "easy" major even at some of the more illustrious competing institutions. At Yale, the department has always insisted on using mathematics liberally in undergraduate courses. We have assumed that students had mastery of calculus and could handle multivariate calculus in their courses and linear algebra in econometrics courses. That makes a big difference because it puts meat into the undergraduate program.
William Brainard, Professor Emeritus of Economics
The uniqueness of the department at Yale comes in part from the presence of Cowles and the Growth Center. Our great strength in econometrics and econometric theory reflects the Cowles tradition. We are strong in development even though that's an area that has suffered in the profession at large. We are a pretty eclectic department, with a tradition that goes back at least to my earliest days when it was evident that individuals in the department, far apart in politics, respected and listened to each other. Fellner was conservative, but Art Okun always said it was worth arguing with him; Art always took him seriously. It's a diverse faculty, and there is pleasure in that diversity. And we still have a reputation for seminars where papers are critically examined and where a lot of constructive criticism is handed out.