The goal of the Women in Economics (WiE) organization is to support women, non-binary, and underrepresented minority students pursuing a degree in economics  and to introduce more undergraduates to the field. To do so, we showcase the wide variety of fields and opportunities in economics; bring together undergraduates, graduate students, and faculty; and host events that celebrate the achievements of  women in the discipline. We are dedicated to building a broad, supportive, and engaged community within the department.
---
Co-Presidents: Naomi Shimberg and Astri Doub
Treasurer: Meg Snyder
Marketing Chairs: Tiana Luo and Maggie Cao 
Events Chairs: Tioné Hoeckner and Eleri Phillips
Social Chair: Nora Draper
Seeds of Fortune Chair: Aleena Gul
Networking Chair: Michelle Arguello
Contact Us
If you have questions about our organization, economics at Yale, or how to get involved, feel free to reach out to our co-presidents, Naomi and Astri, or to our social media (below). We'd love to hear from you!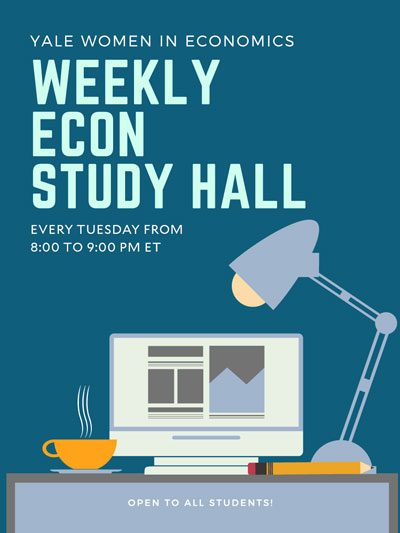 A dedicated study space for students working on economics problem sets for any class, alone or in groups. 
Hours:
Tuesdays 8:00 - 9:00 PM
Location:
Yale College room in the Humanities Quadrangle
Please join us on select Fridays this fall to hear from four outstanding early career economists from academia and beyond. Each speaker will spend some time speaking about her experience in the profession as a woman, followed by a brief presentation on her current research. Lunch or snacks will be provided.
Friday, October 7
Eva Chalioti
Senior Lecturer and Associate Chair at Yale University, and WiE Faculty Advisor
Friday, October 14
Winnie Van Dijk
Assistant Professor at Harvard University
Friday, November 4
Natalia Emanuel
Research Economist at the Federal Reserve Bank of NY
Friday, December 7
Rebecca Toseland
Senior Lecturer and Director of Research Support at the Tobin Center for Economic Policy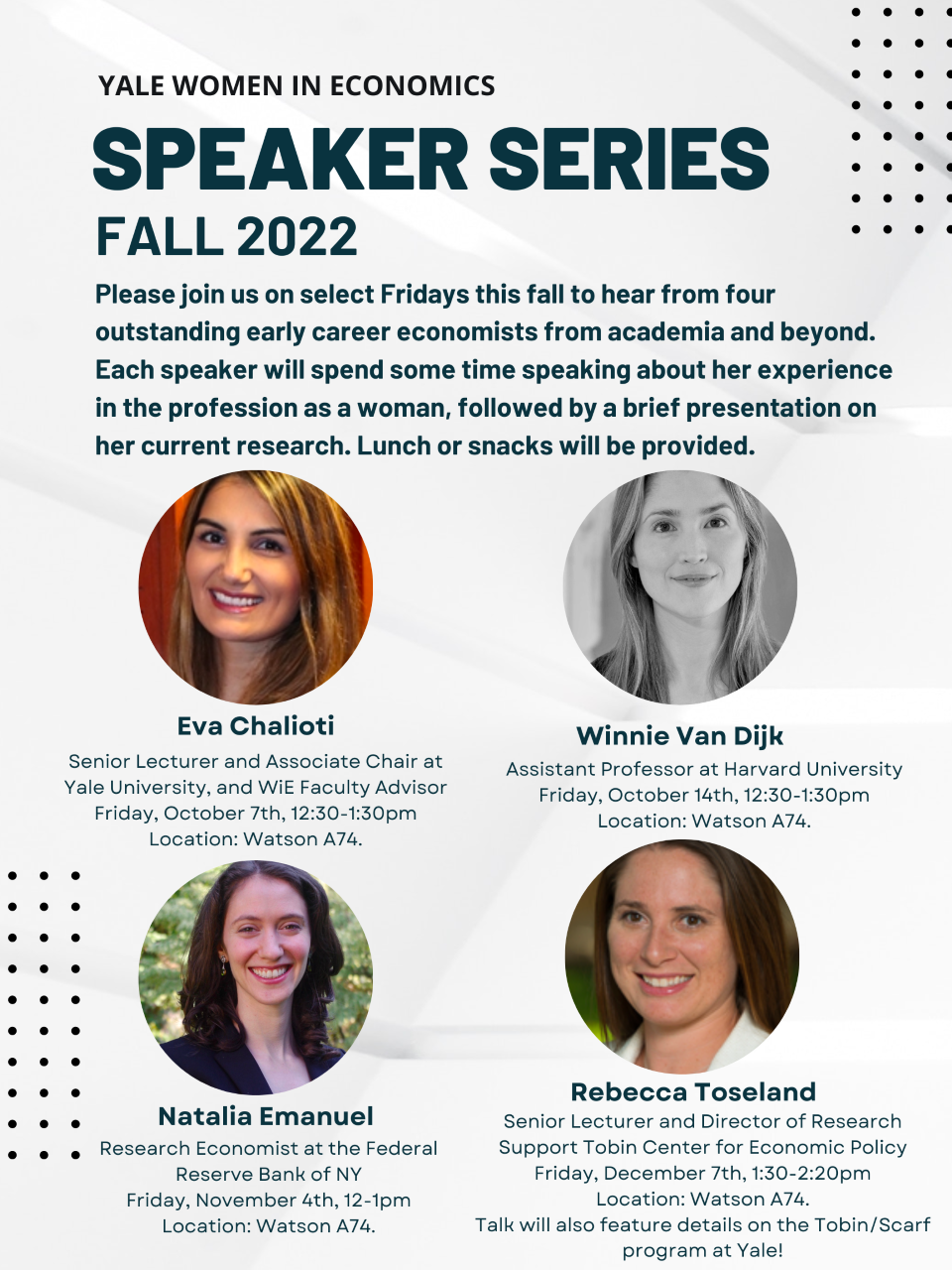 Resources and Opportunities