Introducing the Seed Scholars Program in Collaboration with Women in Economics
Seeds of Fortune Inc. is a scholarship program creating the next generation of financially empowered young women of color starting with college.
The Seed College Prep Experience was created out of a commitment to equip young minority women with the essential tools required to aid them in becoming financially empowered women of color. Seeds of Fortune Inc. serves scholars entering twelfth grade who are from diverse socioeconomic backgrounds. However, the program is focused on mid/low-income students. Seeds of Fortune Inc. scholars will:
●      Learn basics of economics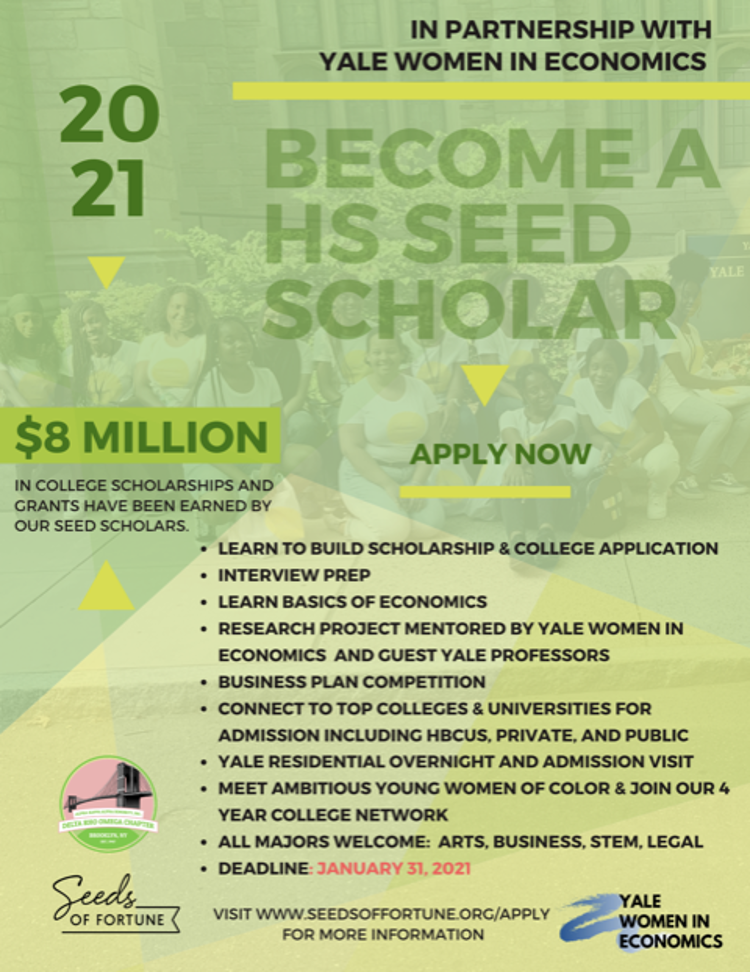 ●      Learn how consumers make decisions about college
●      Create an economics research project
●      Participate in a business plan competition
●      Build scholarship & college application
●      Participate in interview preparation workshops
●      Learn about college majors
●      Learn budgeting for college
●      Meet ambitious young women of color & join our 4-year college network
Interested high school students can find out more about the program here: https://www.seedsoffortune.org/apply
JOB OPPORTUNITY
Seeds of Fortune Inc. seeks to partner with Yale Women in Economics to provide mentorship and facilitators for the summer program.  We are looking for volunteer mentors and facilitators.
As a mentor or facilitator, you will become an essential part of helping a young girl find her voice. You will also have the opportunity to work with compassionate and knowledgeable staff and experienced volunteers. and to grow with a dynamic community.
This application is open to juniors and seniors, with priority given to those with research/thesis experience. This is a remote volunteering position. 
MENTORS
Volunteers will be mentoring the high school scholars in their summer economic capstone projects. Each mentor will be assigned to about 5 mentees, and mentoring will be conducted remotely. Mentors will meet virtually each day for an hour with scholar participants over an 8-10 day period in virtual breakout groups via video conference organized by Seeds of Fortune Inc. Mentors will assist and advise the Seed Scholars in their capstone projects, and work with them regularly.
Time Commitment: July 31 - August 7, about 2-3 hours per day (weekday only). Hours are flexible, but will be approximately 5:30-7:30pm.
APPLICATIONS
Interested volunteers can apply here: https://forms.gle/SyxBDtjdGx79QcQz7