The George Trimis Prize is awarded annually to doctoral students in the Department of Economics who demonstrate exceptional academic achievement.
This year's prize was awarded to seven graduating students: Ian Ball, Ro'ee Levy, Oren Sarig, Hannah Trachtman, Katherine Wagner, Conor Walsh, and Pengpeng Xiao.
The announcement was made to the recipients via a celebratory virtual gathering by the Department of Economics Chair, Tony Smith,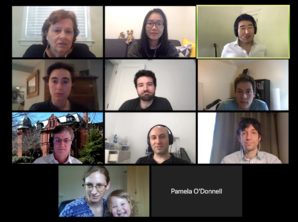 and Director of Graduate Studies, Yuichi Kitamura. Graduate Registrar, Pam O'Donnell also offered her congratulatory wishes.
The George Trimis Prize was established in May 2003 in memory of a doctoral student in the Department of Economics who lost his battle to cancer. In recognition of the extraordinary example that Trimis set, the prize is awarded to students whose dissertations demonstrate exceptional and distinguished achievement. George Trimis was awarded the first prize before his death.
Below is a list of this year's recipients, their dissertation titles, their advisers, and a brief abstract.
Ian Ball, "Essays on Information Economics"

Advisers: Dirk Bergemann, Johannes Horner, Larry Samuelson

Ball builds a model of predictive scores, which are used in a variety of ways, e.g. FICO credit scores. He shows how to construct an optimal scoring rule, when scoring induces a game between the sender of high dimensional information to be aggregated into a score, and the receiver whose objective is to predict the quality of the sender.
 

 

Ro'ee Levy, "Essays on Political Economy in the Age of Digital Media"

Advisers: Dean Karlan, Joseph Shapiro, Ebonya Washington

Levy investigates the role of social media in polarization by conducting a field survey on Facebook, offering each participant a randomly chosen liberal or conservative outlet. When a conservative (liberal) outlet is offered to a liberal (conservative), exposure to counter-attitudinal news decreases negative attitudes toward the opposing political party. But this is unlikely to happen under the currently used algorithm.

 

Oren Sarig, "Essays in Industrial Organization"

Advisers: Jason Abaluck, Steven Berry, Philip Haile

Sarig studies the relative effectiveness of prior authorization, which can be costly to physicians, against out-of-pocket (OOP) sharing and other means of controlling moral hazard in prescription drug demand.  He finds that prior authorization is efficient and concludes that beneficiaries would prefer the current use of prior authorization over a counterfactual policy in which only OOP cost sharing is used.
 

Hannah Trachtman, "Essays in Development and Behavioral Economics"

Advisers: Jason Abaluck, Dean Karlan, Costas Meghir, Joseph Shapiro

Trachtman conducts an online experiment, in which individuals receive messages and incentives for healthy behavior, to investigate their potential unintended negative spillover effect, namely, worsening other health behaviors by overcrowding the individuals' limited attention. She explores underlying mechanism behind it with both economic and psychological theories. This highlights an important trade-off that needs to be addressed in designing such intervention.

 

Katherine Wagner, "Essays in Environmental Public Finance"

Advisers: Jason Abaluck, Joseph Altonji, Matthew Kotchner, Joseph Shapiro

Wagner finds that public flood insurance plans in the US are generally underpriced, but because of inaccurate perceptions, too few consumers buy them.  Incorporating this into her analysis of policy reforms, she shows that raising insurance prices to their fair levels would lead to a large welfare loss, whereas making flood insurance mandatory would induce a significant welfare gain.
 

Conor Walsh

, "Essays in Economic Growth"

Advisers: Costas Arkolakis, Samuel Kortum, Giuseppi Moscarini, Michael Peters

Walsh finds that the patterns of new firm entries differ substantially across the US but are persistent across time, leading to disparities in spatial growth rates.   His theoretical model explains such phenomena, suggesting that the indirect effect of declining manufacturing sectors through its negative spillover to new firm creations in other sectors is as important as their obvious direct effect.
 

Pengpeng Xiao

, "Essays in Gender Inequality"

Advisers: Joseph Altonji, Ilse Lindenlaub, Costas Meghir

Xiao develops an economic model of the gender gap in the labor market.  Her model features female and male workers who are individually heterogenous in preference and skill, and firms which are also heterogenous.  Her empirical analysis suggests that reducing maternal leave and increasing paternal leave is highly effective in reducing the gender gap in workers' lifetime earnings.