Monday, December 14, 2020
This past March, when the campus shut down and classes went online with little notice, students had to adapt to college as they had never known it. Zoom sessions replaced face-to-face interaction with professors and classmates. Many of the social aspects of college evaporated. Even more challenging, many students lost access to calm places to study. But the Yale students rose to the challenge. The class of 2020 graduated 193 economics majors and 15 economics & math majors. One student graduated in economics & computer science, a new interdepartmental major that allows students to explore the theoretical and empirical connections between the two fields.   
Some senior thesis writers were cut off from data and computing resources that had been an integral part of their research, but students were creative and found workarounds for Yale resources that could not be accessed remotely. Fifty seniors completed senior theses on topics ranging from oligopolistic markets to global poverty to fracking to statistical discrimination in housing.   
Students are also delving into economics outside of course work.  In the summer of 2020, 37 students, up from 27 the summer before, participated remotely in the Scarf Research Assistant program in which students learn about research by working alongside professors. Scarf RAs also participate in workshops on programming, research, and the economics profession. We have a similar program during the school year called the Tobin Research Assistantships. Forty-five students participated during spring 2020, shifting to remote work in March. That number has grown to sixty-three students participating now.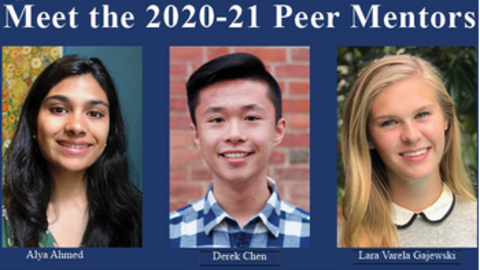 For the third year the department is participating in the Peer Mentor program. The economics peer mentors have been outstanding. They go way beyond their charge to provide advice and information to those considering economics courses or majors. They have pushed the department into adopting new practices in the classroom to foster greater inclusion in economics. 
Finally, students are taking the initiative to seek out opportunities to engage with economics, beyond those the department organizes for them. The Women in Economics (WiE) student organization, now starting its fourth academic year of existence, is thriving. The WiE seeks to expose a diverse array of students to the diversity of topics and opportunities in the field. They host speakers who use economics in their careers and organize workshops on topics such as on preparing for graduate school in economics. The WiE, along with the peer mentors, have just started a Big Sib Little Sib program whereby majors mentor first and second year students who are interested in economics. They have just begun to implement this program during a pandemic, with all learning taking place remotely, no less. But this is precisely when a little extra support is needed the most.   
This school year, with only some students on campus and most courses online, is like no other. But I already have evidence that Yale undergraduates will continue to meet and exceed the challenge.   
Ebonya Washington
Director of Undergraduate Studies
News Items