Economics Alumni News
Undergraduate
Class Year: '47
Reisman Sends His Greetings

Post date: 10/13/16

No News - Just going on record as still surviving.
Reisman, George F
Class Year: '64
Bob Archer Volunteering in Retirement

Post date: 11/05/16

I worked on energy reforms–electricity sector restructuring and privatization and regulatory development–in Eastern Europe, the Former Soviet Union and South and Southeast Asia for 30 years with the Agency for International Development.  The virtual absence of economic considerations in decision-making was costly and still haunts the sector transition away from central planning.  
Since retiring, I have been doing a lot of volunteer work promoting and researching the revenue neutral carbon tax policy (and the lack of performance of cap and trade).  Given the political economic of developing countries, I've concluded that such a policy is the best fit given the pervasiveness of weak institutions  (World Bank indices) and serious corruption (Transparency International indices).  Bill Nordhaus' work has, of course, been extremely helpful. 
Archer, Bob
Class Year: '80
Liebschutz Leads in Many Areas

Post date: 10/13/16

David Liebschutz JD/MPP is the principal of DSLeadership, LLC, a strategic planning and leadership consulting firm, and a public service professor at the Rockefeller College of Public Affairs and Policy at the University at Albany and an adjunct professor of management at Siena College.
Liebschutz, David
Class Year: '82
Sally Mattison Co-presents Webinar

Post date: 11/13/18

Priscilla J. ("Sally") Mattison, Of Counsel to Bernard M. Resnick, Esq., P.C., co-presented a Continuing Legal Education webinar hosted by The TASA Group, entitled "Pitfalls for Contestants in Reality Competition Shows". She also recently gave a "2018 Update on USA Concert Touring Issues" to students of Entertainment Law at the Villanova University Charles Widger School of Law, and provided "A Quick Overview of Intellectual Property Law" to students of Entrepreneurial Engineering at Temple University's College of Engineering.
Mattison, Priscilla
Priscilla Mattison Appointment

Post date: 03/19/18

Priscilla J. ("Sally") Mattison, Of Counsel to Bernard M. Resnick, Esq., P.C., was appointed to the Philadelphia Film Advisory Task Force.
Mattison, Priscilla
William English to Teach in the Fall

Post date: 06/01/16

This upcoming academic year, students will have the opportunity to take a class with William B. English, Senior Special Advisor for Monetary Policy at the Board of Governors of the Federal Reserve System. Mr. English will be a visiting faculty member in the Department of Economics and will teach two classes closely related to his work at the Federal Reserve: Monetary Economics in the fall and Central Banking in the spring.
"The idea is to teach the students the background they need to grapple with some of the difficult, but very interesting, policy questions that have come out of the financial crisis and the subsequent recession," English said.
No stranger to the university, Mr. English received his B.A. in Economics and Mathematics from Yale in 1982, and had Economics Professor and Nobel Laureate James Tobin as his thesis advisor.  During his senior year, Mr. English also took Mathematical Economics taught by John Geanakoplos (the first class Geanakoplos taught after graduating from Harvard and returning to Yale as an assistant professor). 
When asked about advice for undergraduates pursuing a degree in Economics, Mr. English said, "Take classes on a broad range of topics in economics.  It's a big field, and you can't know what you find most interesting until you have tried it.  Along the same lines, write an honors thesis, so that you get some exposure to research in Economics and see if you like it."
Mr. English has served at the Board of Governor of the Federal Reserve System for over 20 years, and has held a range of positions, including, Director of the Division of Monetary Affairs and Secretary to the Federal Open Market Committee from 2010 to 2015.  In that position, Mr. English oversaw the development of monetary policy, working extensively on issues related to asset purchases, policy normalization, and policy communication. Prior to joining the Federal Reserve, he taught at the University of Pennsylvania and the University of Chicago. Mr. English received a PhD in Economics from the Massachusetts Institute of Technology in 1986. 
Mr. English visited Yale this last February to present on the Federal Reserve's unconventional monetary policies.
Class Year: '86
Alumni Behind Tobin Scholars Award

Post date: 11/30/16

Former Professor and Nobel Laureate James Tobin is still a much admired figure in the world of economics, even after his passing in 2002. Motivated by the Great Depression, much of Tobin's research focused on macroeconomics, mainly monetary and fiscal policy. Not only was he respected for his field work, but he was also revered for his mentorship, teaching and advising.
To honor Prof. Tobin and his scholarship, alumni Stephen Freidheim and David Swensen (also Yale's CIO) created the Tobin Scholars Prize in 2012, which is annually awarded up to four seniors majoring in Economics or Economics and Math for outstanding performance in core theory courses.  To better understand Professor Tobin's impact the two men and what he meant to them, we posed a few questions to the alumni.
Why did you decide to create the prize?
 
Stephen Freidheim: Professor Tobin had a profound impact on me. Firstly, he was a central figure in macroeconomics, who opened my mind (and those of hundreds of his students) to a broad spectrum of economic theory from formalized risk theories to specific econometric models, from general macro theory to specific behavioral theories and economic policies. He was a great teacher and a great listener. It was clear that Jim Tobin loved teaching and loved Yale. However, what had the deepest impact on me, was my discovery that his devotion to the study of economics was driven by his awareness of the human and economic waste of the Great Depression, and his desire that his life's work in this field could make a major difference for the welfare of people. He devoted his energy and vast intellect to the betterment of people and society. He was both brilliant and compassionate.
David Swensen: Steve Friedheim approached me a number of years ago to talk about ways that we might support the Economics Department and honor Jim Tobin. We found that, unlike many other departments at Yale, Economics had few, if any, ways to recognize undergraduates. The solution was simple: create Tobin Scholars to honor academic excellence.
 
Did you have a connection to Prof. Tobin that led to your creating the prize named in his honor?
 
SF: Yes, I was his student and he was my senior thesis advisor, so we worked closely while I was a student at Yale in the 80's. After I graduated we remained in contact. Over the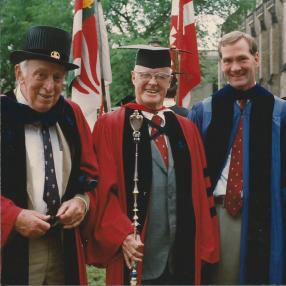 years, he recommended a handful of his students to come work with me in the investment world. Many of these individuals have gone forward and built careers as investors and businesses that are doing very well today. I, along with these professionals, and the many, many others who were impacted by Jim over the years– are proud members of Tobin's Army.
DS: Jim Tobin had a profound impact on my life. As a teacher, he emphasized the importance of employing first principles when addressing problems. As my advisor, he demanded clear, crisp prose, knowing that sloppy writing often stood side by side with sloppy thinking. As a mentor, he told me to do something with my life that matters and he helped (along with Bill Brainard) to open the door for my return to Yale to manage the Endowment. I'm thrilled that Jim's memory will be sustained, in part, by the Tobin Scholars.
 
What has been the students' reaction to winning the prize?
SF: It's clearly been positive at least on two levels. First, the prize (awarded to the top students in the economics department by its faculty) has helped revive Tobin's legacy and his theories both among the students and the faculty. There's renewed buzz on campus about the great man behind the prestigious prize, which has been so enjoyable for me to witness and in which to take part. Second, the students value the award as evidenced by the resumes that I receive when recruiting for the world's top undergraduate talent every year. Winners of the Tobin Scholar prize will proudly (and prominently) list the award on their resumes and cover letters. The award is always a topic for conversation during interviews as well.
 
What advice do you have for undergraduates pursuing a degree in economics?
SF: The great part of the quintessential liberal arts education at Yale was that it taught me how to think. During my four years at Yale I explored arguments and theories (across a myriad subjects). We studied them, took them apart, and learned how thought and theory built upon one other. It opened my mind to appreciate and respect a wide spectrum of thought and methodologies. It taught me how to approach theories critically and how to address questions and problems.
A soft science major like Economics has the advantage of combining the rigor of learning complex theories and formulas within the openness of a real world in which these very theories and formulas get put to the test. Studying great economic theories that eventually failed in the real world, helps develop a critical mind. Tinkering with the details and then thinking broadly, and back again to sweating the detail was great fun. Such mental dexterity that an Economics major develops in a young mind is particularly useful in professional life. Fresh out of Yale on Wall Street the economic, behavioral, and market theories that underpin our economic world, all seemed far less practical than the hard accounting and finance majors that many of my peers had earned. However, one quickly learns the specific technical rules on the job. The advantages of the liberal arts economics major, starts bearing fruit quickly and enduringly– the ability to adroitly manipulate basic and complex relationships within and among businesses and markets with a critical mind is useful throughout so many professions in investing, finance, business (both old and new economy) and consulting (and likely many other endeavors).
Today (just as it was in the 80's), Economics is a major where you justly get out what you put in. At Yale the Economics major has tremendous breadth of subject matter and levels of difficulty. There are heavily quantitative courses that can challenge the brightest mathematical minds, theoretical and conceptual courses for the finest abstract thinkers, rigorous courses, as well as easier courses with lower workloads. I'd encourage all Economics majors to put aside any fear of workload or difficulty, to challenge yourselves, to choose courses that excite and test your young minds, and you'll reap the benefits throughout your careers.
Finally, if you have the opportunity to study under a teacher like Jim Tobin or David Swensen– by all means grab it! Yale is blessed to have great professors, scholars and TA's. From them you can learn far more than just great theories (and, yes, you will be exposed to amazing ways of thinking)– you will gain exposure to deeply principled men and women that may inspire you throughout your careers. Such life lessons can be invaluable deep into your career, as I have found. From Jim's example, his students were exposed to many of life's principles– many of which guide my business today– intellectual honesty in all aspects of ones work, clarity and precision in the expression of all ideas, respect for all people, unabashed competitiveness, and personal modesty. Incredible that a man of Jim Tobin's stature and accomplishments gave his students the lesson of modesty.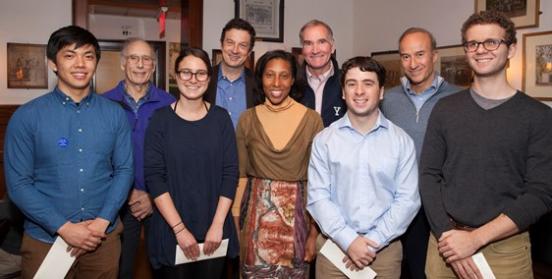 Any additional comments?
SF: Yes, I created the prize with David Swensen. David in many ways embodies all the best virtues that I so admire in Jim Tobin. David, like Jim, has advanced economic and portfolio theories that are brilliant and impactful. In addition, like Jim, David's luminous scholarship, beautiful mind and tireless energies are devoted to the betterment of Yale and society more broadly. David has accomplished this firstly by developing and implementing portfolio theories that have radically reshaped Yale's endowment, which has allowed for such things as need-blind admissions (which didn't exist when I was a student at Yale). David's greatest gift to society to date, however, may be that he continues to develop his own army dedicated to helping other institutions of higher learning and charitable organizations by implementing these portfolio investment theories. In doing so, David's impact on the welfare of society and so many individuals is profound, enduring, and growing. So, it is wholly appropriate that David Swensen is the one to hand out the Tobin Scholar prizes every year to the winning students. 
---
For more on Professor Tobin's life, work, and accomplishments, visit the Tobin Project website.
Stephen Freidheim is the CIO, Founder and Managing Partner of Cyrus Capital Partners.  He co-founded the predecessor company in August 1999.  He was Managing Director and Partner at Bankers Trust Company and head of its Capital Management Group from 1993 to 1999, where he was responsible for proprietary trading and client investments in high yield and distressed.  In addition, he was Chief Investment Officer of Fixed Income.  He was the Director of Research and Trading and a member of Board of Directors for Nomura Corporate Research & Asset Management from 1990-93.  Mr. Freidheim started his career at Kidder, Peabody in 1986, where he became its youngest-ever Vice President and was Director of High Yield Research at Kidder, Peabody Asset Management until 1990.  He serves on several boards and committees including the Council on Foreign Relations, the Peterson Institute, the Children's Home & Aid Society of Illinois, and the U.S. Olympic Committee. Through his foundation he supports child education. He graduated from Yale University with a B.A. in Economics in 1986.     
David Swensen is Yale's CIO, overseeing $22 billion in Endowment assets and several hundreds of millions of dollars of other investment funds. Under his stewardship during the past 28 years the Yale Endowment generated returns of 13.8 percent per annum, a record unequalled among institutional investors. Mr. Swensen leads a staff of 30, located near the University's campus in downtown New Haven. Prior to joining Yale in 1985, Mr. Swensen spent six years on Wall Street–three years at Lehman Brothers and three years at Salomon Brothers–where his work focused on developing new financial technologies. At Salomon Brothers, he structured the first swap, a currency transaction involving IBM and the World Bank. Mr. Swensen authored Pioneering Portfolio Management: An Unconventional Approach to Institutional Investment and Unconventional Success: A Fundamental Approach to Personal Investment, both published by The Free Press, an imprint of Simon & Schuster. His books have been translated into Chinese, Japanese, Korean, German, French, Spanish, Italian, and Portuguese.
Class Year: '97
Jeffrey Talpins '97 Endows Leadership Post at Tobin Center

Post date: 12/13/18

Yale University has taken another step toward advancing domestic policy research, thanks to a leadership gift from Jeffrey Talpins '97 endowing the faculty directorship of the Tobin Center for Economic Policy at Yale. Steven Berry, the David Swensen Professor of Economics, has been named the inaugural Jeffrey M. Talpins Faculty Director.
Named in memory of the late James Tobin, iconic faculty member and Nobel laureate, the Tobin Center will not only have a profound impact at Yale, but also bring much needed intellectual rigor and hard data to the national discourse on public policy. The center is slated to open in 2022.
"With our country facing so many critical long-term challenges, I believe the Tobin Center will put Yale's research efforts right at the center of the public policy debate, leading to better outcomes for our society," said Talpins.
Berry, a member of the Yale faculty since 1988, is a renowned economist whose research analyzes industrial organization, empirical models of product differentiation, and market equilibrium. He will be responsible for executing the center's strategic vision to advance rigorous, evidence-based research. In addition, he will engage with questions and topics that command attention from key figures in the world of policy and decision making.
"Steven will play a crucial role in launching the center," said Ben Polak, university provost. "We are grateful for Jeff's generosity. With Steven at the helm of the Tobin Center, we will attract top faculty in these exciting areas to Yale."
"Steven will help the university to establish itself as a new force in the world of economic policy analysis," said Tamar Gendler '87, dean of the faculty of arts and sciences and the Vincent J. Scully Professor of Philosophy. "We are grateful for Jeff for his vision and commitment in supporting this exciting endeavor."
Class Year: '00
Rosser Publishes Book

Post date: 10/13/16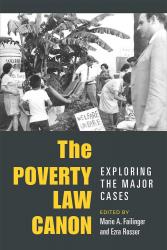 The Poverty Law Canon: Exploring the Major Cases, a book co-edited by law professors Ezra Rosser (Class of 2000) and Marie Failinger, was recently published by Michigan Press. It and a companion poverty law textbook, Poverty Law: Policy and Practice (Aspen Casebook), tackle issues of poverty that relate closely to an Econ class taught by Professor Gerald Jaynes.
After Yale, Ezra got a JD from Harvard and an MPhil in Land Economics from Cambridge and he now teaches at American University Washington College of Law. He still misses Main Garden in New Haven. 
Rosser, Ezra
Class Year: '02
Alexis Peter Surovov Fundraising for Higher Ed

Post date: 11/04/16

I was pleasantly surprised that the Department issued an alumni newsletter and write to report that I've spent the last 14 years in the non-profit world as a fundraiser for higher education. Along the way, I obtained a MS in Fundraising Management from Columbia University's School of Professional Studies and I remain committed to the classroom and life long learning. Five years ago I enrolled in an Adult Learning PhD program at the UConn Neag Graduate School of Education where my dissertation research is focused on how adults learn philanthropy and acquire a financially generous disposition. I have drawn on element of behavioral economics in my literature review and hope to make an academic contribution with practical applications for my field. I currently work as a Development Officer at Hartford Hospital and reside with my wife, Elizabeth Salsedo-Surovov, Esq. and our two young boys Aleksander and Mikael. I welcome conversation with anyone interest in the economics of higher education and/or the topic of altruism, philanthropy, or prosocial behavior. In addition, I consult as a philanthropic advisory to high-net worth individuals and families. Your can reach me at Alexis.Salsedo-Surovov[at]Uconn.edu
Surovov, Alexis Peter
Class Year: '08
Ramamoorthy Extends an Invite to Éire

Post date: 10/14/17

Hey all! Just wanted to offer to host any alumni who want to visit the magical island of Ireland. I'm an entrepreneur, recording artist, startup coach and speaker living in Dublin and working across 4 continents so let's connect if there is any common interest or if you want to spend a weekend here! To learn more about what I do: www.iamdanram.com
Ramamoorthy, Daniel
Class Year: '16
Merritt '16 Wins Rhodes

Post date: 12/01/16

Peter Merritt '16 will join three other Yalies studying at Oxford University next year as winners of Rhodes Scholarships. 
The alumnus graduated with a double major in political science and economics. His senior thesis analyzed the conflicts between religious liberty and LGBTQ anti-discrimination protections in the United States and around the world. In college, Merritt was a member of the Law & Religion Group at Yale Law School, wrote for the Journal of Medicine and Law, and ran a community service organization that brought leftover dining hall food to New Haven halfway houses. An avid athlete, Merritt also competed for the Yale Varsity Track & Field team, finished two marathons, and spent one summer cycling across the United States. He is interested in studying the global protection of human rights and will pursue an M.Phil. in politics at Oxford.
Merritt will represent Bermuda at Oxford. Yale's three U.S. Rhodes recipients were announced on Nov. 20.
Considered one of the most prestigious awards for international study, the Rhodes Scholarship was created in 1902 at the bequest of British philanthropist Cecil Rhodes. The award provides all expenses for two or three years of study at Oxford to those students who best exemplify "academic achievement, integrity of character, a spirit of unselfishness and leadership potential."
Graduate
Class Year: '61
Charlotte D. Phelps to Chair 2018 ASSA Session Meeting

Post date: 11/20/17

I am going to chair a session at the ASSA meetings in Philadelphia in January 2018.
The session is titled: "New Frontiers in the Economics of the Household":
Shoshana Grossbard, the founding editor, asked me to chair the session.
She founded the journal 15 years ago.
The session is sponsored by the Society for the Advancement of Behavioral Economics (SABE).
I was one of Tobin's students: Ph.D. 1961.
Phelps, Charlotte D.
Class Year: '62
Fateh Chaudhri on her Career

Post date: 02/13/19

Since this is my first write up as an alumnus , I would like to present a very brief history of my professional life . After graduating from Yale Economics Department I returned to my home country and served Pakistan Institute of Development Economics for four years before joining the Asian Development Bank in Manila, Philippines , from 1967 to 1970. In 1971, I was recruited by the World Bank, Washington , D.C . I was chief of World Bank economic and sector missions and Principal author of reports on Indonesia, Malaysia, Thailand, Portugal spanned over twenty three years.
In Pakistan, I was the founding member of Pakistan Development Forum, Pakistan Economic Forum, Pakistan Education Watch and organized NGOs serving the poorest of the poor and active member of Pakistan Society of Development Economics and the Council of Social Scientists. In Pakistan, I wrote articles in leading newspapers and journals and contributed to national debate on sector issues, economic management and governance issues in electronic and print media.
Chaudhri, Fateh M.
Gerry Helleiner and The Yale Years

Post date: 10/14/17

Memoirs will shortly be published, with a chapter on "The Yale Years: Gerry Helleiner, Toward a Better World: Memoirs of a Life in International and Development Economics" (University of Toronto Press, 2018).
Helleiner, Gerald
Class Year: '63
Herbert Grubel Reminisces a Career in Economics

Post date: 10/14/16

My first academic position following graduation from the PhD program was at Stanford 1962-63. I then spent 3 years at the University of Chicago where, as Harry Johnson put it, I became an economist with a Yale degree and a Chicago education. I was lucky that during my time at Yale (1958-62) and Chicago (1963-67), the economics departments of both institutions experienced a golden age.
After Chicago I spent four years in the Finance Department of the Wharton School before moving in 1972 to Simon Fraser University in Vancouver, Canada. Between 1993 and 1997 I served as an elected member of the Canadian parliament in Ottawa, holding the position of Minister of Finance in the shadow cabinet of the opposition party. But political life was not for me and after returning to Simon Fraser University in 1997, two years later I turned 65 and was forced to retire.
During my career I have authored, co-authored and edited 20 books, published 82 articles in refereed journals and contributed 55 papers to published conference proceedings. Google Scholar shows that my publications have been cited about 9,000 times.
In retirement I continue to write and give papers at conferences around the world. My latest papers can be found at the SSRN website. Past ones are found at ResearchGate. My current interest is in creating a taxonomy of regulations and the concept of an optimum level of regulation.
Thanks Yale and my great teachers Robert Triffin, William Fellner, Henry Wallich, Art Okun and James Tobin for providing me with the basis for a rewarding career in economics.
Grubel, Herbert
Class Year: '64
Class Year: '66
George Sadowsky Reflects

Post date: 09/13/18

Reflections on a career … inspired by Herb Grubel's note.
I'm not sure what "class" I'm in. I joined the Cowles Foundation as a research assistant in 1962, entered the graduate program in 1963, specialized in market organization with Joe Peck and in gaming and simulation with Martin Shubik. I received an M.A. in 1965, and, having finished all of my course work for a Ph.D., left shortly thereafter to create and direct a new social science computer center at the Brookings Institution in Washington. I then did research under Guy Orcutt at the Urban Institute on microanalytic simulation of the household sector that ultimately led to my Ph.D. The Urban Institute published it in 1977, but I didn't type it in the proper format and get my Ph.D. until 1988 after rejoining academia when the degree again had economic value.
My career was not one of traditional teaching and/or research in economics. My economics-related work started before coming to Yale; as a U.S. Treasury consultant in 1963 I introduced the use of computers as a real-time policy tool tor designing what ultimately became President Johnson's Revenue Act of 1964. At Brookings I participated in various research projects in a support role, most notably with Charles Berry's work on medical economics and industrial merger behavior and Joe Pechman's work on tax structures.
From 1973 to 1986 I worked as a technical adviser to the United Nations, introducing computers and advising on statistical and economic data collection and use in offices in developing countries. I worked in the field in 30-40 countries and learned a lot about economic development. My most intense experience was being the UN software technical adviser to the 1982 Chinese population and housing census, traveling multiple times to almost half of the provinces in China shortly after the end of the cultural revolution.
I then returned to academia, directing instructional and research computing and networking activities for 15 years, first at Northwestern and then at NYU. As computing and networking became more administrative than technical, I left in 2001 to run an Internet policy project for Internews Network. The project spanned 17 countries, including almost all members of the former Soviet Union. It was the time of the dot-com boom, and for 4-5 years we made some major inroads with introducing more liberal information and telecommunication policies, until our financial support dried up.
Since 2005 I've been involved with ICANN, the Internet Corporation for Assigned Names and Numbers, first as a volunteer and then for the last nine years as a member of its Board of Directors. I characterize ICANN as the informal manager/regulator of the Internet's system of identifiers, that include the domain name system. The challenges of having responsibility for that growing industry (which is now a multi-billion dollar industry) have been major, and the current situation can only be understood historically. Several years ago I had the pleasure of connecting again with Stan Besen, and together we authored a paper on the economics of Internet standards, included in Elgar's recent 'Handbook on the Economics of the Internet."
It has been a relatively wild ride, and a really interesting one. Despite never becoming an academic economist, I've used my knowledge of economics often and creatively in a wide variety of situations, and I remember with fondness much of my contact with faculty and students wile at Yale.
I'm not ready to conclude my career, and suggestions for what to do next are welcome from all! If you want to know more, look at georgesadowsky.org, and contact me.
Sadowsky, George
David Barkin Notes His Recent Accomplishments

Post date: 10/17/16

Appointed Distinguished Professor, Universidad Autonoma Metropolitana, Mexico City
Elected as Emeritus Researcher, National Research Council, Mexico
Awarded Georg Forster Endowed Chair for socio-economic research on Climate Change at Humboldt University, Berlin
Major current research projects: local solutions for environmental justice; Collaborating in consolidation of post-capitalist societies in Latin America; Food Sovereignty and Environmental Justice.
Barkin, David
Class Year: '69
Homecoming for Prime Minister Monti

Post date: 04/14/16

Former Italian Prime Minister Mario Monti toured the Economics Department and the Cowles Foundation buildings on Wednesday morning. Monti took the opportunity to visit his old department while in town attending the Global Colloquium of University Presidents hosted by Yale. He said this was his first time back to the department since the late 1960s.
Accompanied by his wife Elsa and Economics Professor Giovanni Maggi, Monti reminisced with department chair, Dirk Bergemann, who guided the group through the 28 and 30 Hillhouse buildings.  Monti visited a seminar room where he attended classes and passed through the student lounge which did not exist when he attended Yale. While in the Cowles Faculty Lounge, he took time to pay homage to his professor and mentor, the late James Tobin.
Giovanni Maggi, who studied under Monti at Bocconi University in the 1980s, was delighted to join the tour and speak with his former professor. "Talking with Professor Monti after a long time brought back wonderful memories of my time as a student at Bocconi University," said Maggi. "It was a great trip down memory lane, and it reminded me what a fantastic teacher he was." During Maggi's time at Bocconi University, Monti directed the Institute of Economics before becoming the university's rector in 1989 and later president in 1994.
Giovanni Maggi, Elsa Monti, Mario Monti, and Dirk Bergemann

Dirk Bergemann and Mario Monti

Mario Monti and Dirk Bergemann
Class Year: '71
Class Year: '74
Wolf's Book Packs a Somber Economic Picture

Post date: 10/18/17

I just published "A Century of Wealth in America" (Harvard University Press, 2017). A Century of Wealth in America demonstrates that the most remarkable change
has been the growth of per capita household wealth, which climbed almost eightfold prior to the 2007 recession. But overlaid on this base rate are worrying trends. The share of personal wealth claimed by the richest one percent almost doubled between the mid-1970s and 2013, concurrent with a steep run-up of debt in the middle class. As the wealth of the average family dropped precipitously—by 44 percent—between 2007 and 2013, with black families hit hardest, the debt-income ratio more than doubled. The Great Recession also caused a sharp spike in asset poverty, as more and more families barely survived from one paycheck to the next. In short, the United States has changed from being one of the most economically equal of the advanced industrialized countries to being one of the most unequal.
Wolff, Edward N.
Class Year: '78
Hamilton W. Helmer has the Power - 7 to be exact

Post date: 11/29/16

I wanted to let you know that my book 7 Powers: The Foundations of Business Strategy has been released.  Details at 7powers.com
Cheers,
Hamilton Helmer (Ph.D. in 1978)
Managing Director and Chief Investment Officer
Strategy Capital
Addendum (posted 12/12/17):
My book 7 Powers was selected by Bloomberg as one of the best business books of 2017 https://www.bloomberg.com/features/2017-best-books/
Helmer, Hamilton
Class Year: '83
McKinney named the Carlton Highsmith Chair of Innovation and Entrepreneurship at Quinnipiac

Post date: 09/25/18

Fred McKinney of Trumbull has been named the Carlton Highsmith Chair of Innovation and Entrepreneurship at Quinnipiac University.
"The challenge that all universities have is that you have to be relevant and you have to continue to be innovative and develop relationships," McKinney said. "This is going to be a solid challenge that I am extremely excited about. At this point in my career, I really want to be more engaged in a specific academic community. The opportunity to come in and make an impact will be fun and rewarding for all Quinnipiac University stakeholders."
In addition to teaching students at Quinnipiac, McKinney will be responsible for the People's United Bank Center for Innovation and Entrepreneurship at Quinnipiac University.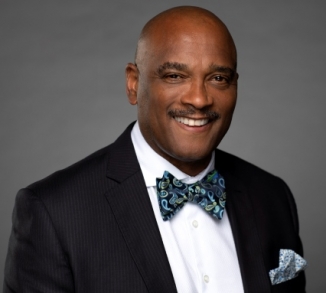 "I have several ideas that I envision happening with the center," he said. "I see the center being a transformative place where students, staff and faculty can work and develop entrepreneurial ideas that ultimately go to market."
Matt O'Connor, dean of the School of Business at Quinnipiac, said McKinney brings a wealth of business and academic experience to his new appointments. 
"He will provide tremendous help and support to our entrepreneurship students as well as all members of the university interested in innovation and business development," O'Connor said. "McKinney also bring this knowledge, support and enthusiasm to the external community.  We are truly excited to have him joining the Quinnipiac community."
McKinney added that he hopes to use his vast corporate connections to develop advisory councils and to form partnerships with the university.
"Innovation often comes from the outside," he said. "I see the center and our students as being the outside source of innovation and entrepreneurship that corporations –– locally, regionally and eventually nationally –– will rely upon."
'Fred McKinney is a recognized thought leader in entrepreneurship and business education," said Carlton Highsmith, vice chairman of the Quinnipiac University Board of Trustees, who established the chair in 2012 with a $1 million gift. "He brings exceptional expertise to Quinnipiac University, along with a proven track record of forging innovative and collaborative partnerships across a broad and diverse network of constituencies."
McKinney earned his doctorate in economics from Yale University. He also has a bachelor's degree from UCLA.
While pursuing his doctoral degree, McKinney spent two summers at the Rand Corporation on domestic economic policy and one year in Washington, D.C., on the President's Council of Economic Advisers.  His work at Rand and at the White House helped him focus his graduate school research on national health policy.
McKinney was a tenure track assistant professor at Brandeis University's Heller School for Advanced Studies in Social Policy. In 1987, he became an economics professor in the MBA and executive MBA programs at the University of Connecticut School of Business. 
While at UConn, McKinney and a friend started Jamaica Gourmet Coffee, a wholesale gourmet coffee company in New Haven. The business grew from a start-up that only included the two founders to a company that employed 20 workers and served over 200 grocery stores and restaurants throughout the Northeast.  
Jamaica Gourmet Coffee continues to operate today.  In 1999, McKinney left Jamaica Gourmet Coffee and started a new company, Advanced Dispensing Systems, a business based on a U.S. patent he was awarded for a system of dispensing whole bean coffee in a retail environment. 
 In 2001, McKinney became President and CEO of the Connecticut Minority Supplier Development Council (CMSDC).  During his tenure, McKinney and his team executed two nonprofit acquisitions, raised millions of dollars in public and private foundation support, grew the Council's staff and expanded to become the Greater New England Minority Supplier Development Council, which operated Minority Business Development Agency Centers in Boston and Bridgeport. 
In April 2015, McKinney became the managing director of minority business programs at Dartmouth University's Tuck School of Business. 
McKinney has published four books on minority supplier development and corporate supplier diversity.  In addition, he has had over 100 articles published in the minority business press and received numerous awards and recognitions over his career for his work and dedication to minority business development, including the 2017 Ronald Brown Leadership Award from the U.S. Department of Commerce. That award was inspired by the late U.S. Secretary of Commerce, Ronald Brown, and recognizes individuals who have achieved significant results in creating diversity, expanded minority business enterprise and demonstrated exceptional leadership in the public or private sector. 
McKinney has also served on numerous for-profit and not-for profit boards in leadership positions, including the Gateway Community College Foundation, Yale New Haven Health Care's Bridgeport Hospital, The American Automobile Association of Connecticut, Habitat for Humanity, The Community's Bank and The Federal Reserve Bank of Boston's Community Advisory Committee. 
McKinney and his wife, Ivy, have two children, Dana and Warren. 
McKinney, Fred
Class Year: '86
Sullivan's Scholarly Adventures Abroad

Post date: 10/14/17

I continue as Professsor of Economics at the National Defense University, and the lead of NDU's Energy Industry Study. I also teach about "Energy and Security" at Georgetown, and teach on various issues for the Yale Alumni College, most particularly about the economics and politics of the MENA region. In March I was part of a small group of energy experts who met at Windsor Castle. I gave talks in the "library" and in "the dungeon". My publications, talks, and advising continue to cut across many fields and disciplines. In April I led my energy industry study to field studies in Mongolia and Japan. (Each year I take them to different parts of the world.) In August I was one of two foreign scholars asked to speak to the Chilean Army's International Seminar on the invite of the Commander of the Chilean Army. In the last year I wast 6 weeks in Egypt to enjoy and learn more about that amazing country I have been involved with for over 25 years. The Middle East, North Africa, East Asia, and the energy-water-food-security nexus continue to be some of my intellectual passions. 
Sullivan, Paul
Class Year: '87
Claure Presents at the World Water Week in Stockholm

Post date: 10/13/16

I made a presentation on our USAID funded PARA-Agua project on Climate Change adaptation in Peru and Colombia, at the World Water Week in Stockholm, Sweden, in August 2016. Please find Youtube link attached, hope it works: https://youtu.be/Z6gWvP4ilYg
Claure, Sergio D.
Class Year: '88
Ben Crisologo Loving LA

Post date: 10/23/18

I've been in Los Angeles for the last 24 years. Any Economics alumni or student passing through or moving here please let me know! Also, I would like to reconnect with my classmates. Let me know where you are!
Ben Crisologo '88 MA IDE
Crisologo, Ben
Class Year: '90
Patel Appointed New Governor of the RBI

Post date: 08/24/16

Yale alumnus Urjit R. Patel Ph.D. '90 was appointed the 24th Governor of the Reserve Bank of India (RBI) by India's Prime Minister Narendra Modi on August 20. Serving as Deputy Governor since January 2013, Patel will begin his three-year term on September 4th. His Yale graduate advisor, Professor Emeritus of Economics,T.N. Srinivasan, is quoted in media outlets as saying, "Urjit Patel is the right man for RBI Governor's job." 
Before attending Yale, Patel received an M. Phil. from Oxford and his Bachelor of Arts degree in Economics from the London School of Economics. He has an extensive resume having worked with the International Monetary Fund (IMF), the Ministry of Finance, Department of Economic Affairs in New Delhi, The Boston Consulting Group, and The Brookings Institute.
Patel has also served on several committees, such as Task Force on Direct Taxes, Finance Ministry, Advisory Committee (on Research Projects and Market Studies), Competition Commission of India, secretariat for the Prime Minister's Task Force on Infrastructure, Group of Ministers on Telecom Matters, Committee on Civil Aviation Reforms, and Ministry of Power's Expert Group on State Electricity Boards.
Read more about Patel and his appointment in these sources:
Class Year: '92
'Path-breaking work' adapted 19th-century trade theory to modern day

Post date: 09/10/18

By Mike Cummings
Fresh out of graduate school, economist Samuel Kortum '92 Ph.D. began collaborating with Jonathan Eaton '73 M.A., '76 Ph.D. while both were on the faculty of Boston University.
Kortum, now the James Burrows Moffatt Professor of Economics at Yale, had focused his graduate work on examining technology as a driver of economic productivity. Eaton encouraged him to consider the international dimension of innovation and technology — how technological changes spread across national boundaries. This line of research eventually led the two colleagues to examine international trade. 
"We had not included trade in our work on the diffusion of technology and growth in different countries because we thought it would confuse the issue," said Kortum, who joined Yale's faculty in 2012. "One day we realized that the way we were modeling technology differences across countries was applicable to trade, and we changed focus from ideas moving across borders to goods."
Kortum and Eaton's collaboration has helped to revive scholarly interest in a 200-year-old trade theory, and it earned them the 2018 Onassis Prize in International Trade, which honors academic achievement and is awarded every three years by the Cass Business School London and the Onassis Foundation. They will accept the award at a banquet in London on Sept. 24.
Updating a 19th-century theory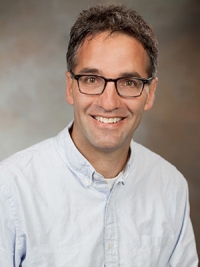 As they shifted their focus to trade, Kortum and Eaton enlisted a third partner in their collaboration: 19th-century British economist David Ricardo, who in 1817 posited the theory of comparative advantage — the idea that countries can benefit by concentrating their resources in industries where they possess the greatest advantage relative to their trading partners.
Ricardo illustrated the theory by envisioning a world economy consisting of two countries, Portugal and England, that could both produce cloth and wine. In Ricardo's example, Portugal is better at producing both goods than England, but Ricardo showed that each country benefited from increased efficiency if it specialized in one of the goods and exchanged it for the other.  
"You'd think that if one country was better at doing everything, they'd be doing all the exporting," Kortum said. "Ricardo's insight was that this wouldn't make any sense because that country wouldn't be getting anything in return for all its exporting. But if we're relatively good at producing one thing — in his example it was the cloth that England was relatively good at producing, and Portugal was relatively good at producing the wine — then each benefits and you start seeing trade."
The Ricardian model remained popular for teaching students about the value of specialization, but economists had largely cast the relatively simple theory aside by the 20th century as theoretical, and quantitative analyses of international trade grew increasingly sophisticated.
Eaton and Kortum created a model that applies Ricardo's basic logic to complex, practical questions involving multiple countries and goods, while accounting for factors like geographic barriers. They described their model in "Technology, Geography, and Trade," a 2002 article published in the journal Econometrica.  The work earned them the Econometric Society's Frisch Medal, which is presented every two years to the authors of the best applied paper published in Econometrica during the previous five years.   
---
"There is a clear before and after the Eaton and Kortum model in economic research."
lorenzo caliendo
---
They helped to transform Ricardo's ideas into a practical tool for exploring the ramifications of international trade in the modern day.
"I think our work bridged a gap that allowed Ricardo's logic to work at a scale and at a level of detail, involving many countries, where researchers can link it to data and use it to study real-world issues," Kortum said.  "It can be used to think through policy ideas and get things right." 
Lorenzo Caliendo, professor of economics at Yale School of Management, has used the Eaton-Kortum model in his research.
"Jonathan Eaton and Sam Kortum did what one might have thought impossible: to develop a framework that allowed researchers to apply Ricardo's idea to data with a level of detail that was unthinkable," Caliendo said. "There is a clear before and after the Eaton and Kortum model in economic research."
Costas Arkolakis, professor of economics at Yale, has also incorporated the Eaton-Kortum model into his work and credits its creators for developing a practical modern tool from a time-worn theory.
"The Eaton Kortum model was a key contribution to what many of our colleagues like to call a 'Ricardian revival,'" Arkolakis said. "It transformed an intuitive but impractical setup, the Ricardian theory of comparative advantage, to a practical tool useful for implementing trade theory with numbers and analyzing various real-life trade policies."
While Kortum and Eaton have continued to develop the model, a growing body of scholarly literature has extended its reach to examine a diverse range of issues, including the implications of NAFTA, trade's effects on carbon emissions, and its influence on international business cycles.
"Their path-breaking work has allowed research economists to understand and quantify the aggregate and distributional consequences of trade as never done before," Caliendo said. "Their idea has influenced my research and the research of many economists in the profession. Not only in international trade, but also in urban economics, labor economics, and macroeconomics."
Brains wired together
Kortum said partnering with Eaton has been its own reward.
"I've learned a lot from his deep knowledge of international trade," he said. "At a more practical level, he is a better writer than me, and I think working with him improved my writing skills. He trained me to realize that sometimes the real work involves taking the time to explain things clearly and accurately. That was a very good lesson for me."
Likewise, Eaton, now Distinguished Professor of Economics at Pennsylvania State University, says he has learned a lot from working with Kortum.
 
---
Sam has a passion for understanding data and a deep knowledge of statistical theory that has made working with him an ongoing learning experience.
jonathan eaton
---
"It's hard for me to believe that Sam and I have been working together for over 25 years," Eaton said. "For me, it's been a fantastic and rewarding collaboration, which I continue to enjoy. Sam has a passion for understanding data and a deep knowledge of statistical theory that has made working with him an ongoing learning experience."
Kortum said he has enjoyed the time they have spent standing before a whiteboard working through a problem.  
"When things are going well, it feels like you've wired your brains together in the same way you might wire computers together to solve a complex problem," he said. "On your own, you'd make a little progress and get stuck for a long time, but the person you're working with solves the problem and then you both run with it. It can be quite an amazing experience."
Thinking through trade issues
Kortum said it is his responsibility to present a thorough analysis for policymakers to consider, not to be an advocate for one trade policy over another. He acknowledges that a common misperception often espoused by politicians is that trade is a zero-sum game in which one country loses and the other wins.
"People often don't consider the benefit of obtaining goods more cheaply through freer trade," he said. "The discussion often is cast purely in terms of jobs, and we don't consider the greater efficiency with which we're producing and trading goods between one another, which doesn't result in more jobs or less jobs, but in more variety and quality of goods that are available to us. In the classic theory, both trading partners can benefit and that's the logic that I think gets missed."
He is currently developing a model to assess the consequences of a potential trade war, showing how countries will be affected if the United States imposes tariffs on them and if they retaliate by imposing tariffs on the United States. He calls the model a "middle-level" analysis that falls between the "back of the envelope" calculations one might see described in a newspaper op-ed and a full-scale analysis incorporating massive amounts of data. His model will account for how much countries are currently trading with each other, he said.
"That's very important," he said. "The fact that the U.S., Canada, and Mexico trade so much with each other while the U.S. trades much less with Germany makes a huge difference concerning who will be harmed in a trade war. I think it will bring a fair amount of information to the table in a transparent manner, and it will give people an opportunity to think through the issue."
Originally posted on Yale News
Class Year: '93
Smets Appointed Director General for Economics by ECB

Post date: 01/20/17

Frank Smets was appointed director general for economics by the European Central Bank effective February 1, 2017. According to news sources:
He reports to Peter Praet, the member of the bank's six-member executive board responsible for economics and preparing decisions on monetary policy for submission to the governing council.
Smets, a Belgian national, has a Ph.D. from Yale University. He has been with the ECB for 18 years and previously served as an advisor to the bank's president and as head of research.
Smets succeeds Wolfgang Schill, who retires after 12 years in the role.
Smets, Frank
Class Year: '96
Francisco Monaldi Has Been Fellowed

Post date: 10/14/17

Since 2015 I have been Baker Institute Fellow in Energy Policy at Rice University and since 2017. I am also a Fellow at the Center for Global Energy Policy at Columbia University.
Monaldi, Francisco
Class Year: '99
Kefentse Mzwinila Appointment

Post date: 10/14/17

Appointed by His Excellency the President as the Deputy Minister of Youth Empowerment, Sport and Culture Development of the Republic of Botswana. Member of Parliament for Mmadinare constituency.
Mzwinila, Kefentse
Class Year: '00
Brad Case Develops Investment Benchmarks

Post date: 10/13/16

I've been in the same job at NAREIT for more than 10 years (after 6 1/2 years at the Federal Reserve Board), doing research on real estate investment and supporting outreach to the institutional investment community. I developed a set of investment benchmarks, the FTSE NAREIT PureProperty Index Series, to make it possible for institutional investors to manage risks in their illiquid real estate portfolios, and later this month I believe the first option(s) will be purchased for that purpose. Tremendously exciting for someone in my field! 
Case, Brad
Class Year: '01
Nordberg says hi

Post date: 10/23/18

I took two IDE courses. 
Nordberg, Tomas
Class Year: '03
Former Grad Student David "Dukes" Love Appointed Provost

Post date: 04/22/16

Yale alum David Love Ph.D. '03, more affectionately known as Dukes, has been appointed the next provost of Williams College.  His term begins September 1.  Love joined the Williams Economics Department in 2003 after earning both an M.A. and Ph.D. in Economics form Yale.  His research focuses on household savings, portfolio allocation, macroeconomics, public finance, and private pensions. Love has published articles in the Economic Journal, Journal of Monetary Economics, Review of Financial Studies, Journal of Financial Economics, and the Journal of Public Economics.  He has served on various committees during his tenure at Williams, and is currently an editor at the Journal of Pension Economics and Finance.
Read more about David on the on the Williams College Letters from President page.
Class Year: '04
Juliana Qiong Wang (Chiang) at Notre Dame

Post date: 10/13/16

After IDE, I went to the School of Forestry and graduated in 2010 (PhD in Environmental Economics). After working at the Yale Climate and Energy Institute, I taught at University of Southern California for three years. We moved to Notre Dame two years ago! It was a pleasant surprise to see Rudy Bachmann also joined the Department of Economics here. I miss my days at IDE. It was great to hear from the department and to learn about the new developments. Please also send my best to everyone in the IDE program, especially Mike Boozer! 
Qiong Wang (Chiang), Juliana
Class Year: '07
Galizia Back in D.C.

Post date: 06/29/17

Moved back to Washington, Risk Manager with the Inter-American Development Bank.
Look forward to hearing who is in the area and reconnect.
Cheers,
Federico
Federico Galizia
Class Year: '08
Bulgantuya Khurelbaatar's New Appointment

Post date: 11/22/16

Recently been appointed as Deputy Finance Minister of Mongolia. Would like to share the news with our faculty at Yale.
Editor's note: Read more about Bulgantuya's new position and her perspective as a female leader in Mongolia.
Khurelbaatar, Bulgantuya
Class Year: '10
Angela Flores in Perú

Post date: 11/29/16

News I am working as a Regulatory Affairs Manager at AB INBEV in Perú. 
Flores, Angela
Dual Degrees
Class Year:
William Nordhaus wins 2018 Nobel Prize in Economic Sciences

Post date: 10/08/18

William Nordhaus '63 B.A., '72 M.A., Sterling Professor of Economics at Yale University and the world's leading economist on climate change, has been awarded the 2018 Sveriges Riksbank Prize in Economic Sciences for "integrating climate change into long-run macroeconomic analysis."
"I am honored to be awarded the Nobel Prize in Economics for work on environmental economics," Nordhaus said. "But even more, I am grateful for the intellectual environment at Yale that taught me as a student, nurtured me as a teacher and scholar, and allowed the freedom to devote my life to one of the critical emerging issues of humanity."
Watch a press conference held in recognition of the award at the Yale School of Management. 
Nordhaus shared the prize with Paul Romer, professor of economics at New York University's Leonard N. Stern School of Business.
Nordhaus' research has focused on economic growth and natural resources, the economics of climate change, and resource constraints on economic growth. Since the 1970s, he has developed economic approaches to global warming, including the construction of integrated economic and scientific models (the DICE and RICE models) to determine the efficient path for coping with climate change. These models are widely used today in research on studies of climate-change economics and policies. He has also studied wage and price behavior, health economics, augmented national accounting, the political business cycle, productivity, and the "new economy."
"This is fitting recognition of William Nordhaus' work on the economics of climate change," said Yale University President Peter Salovey. "Yale is absolutely thrilled to have one of our most distinguished faculty — who is also one of our most distinguished alumni — receive this great honor."
Born in Albuquerque, New Mexico, Nordhaus completed his undergraduate work at Yale in 1963 and received his Ph.D. in economics in 1967 from the Massachusetts Institute of Technology. He joined the Yale faculty in 1967 and in 2001 became a Sterling Professor of Economics — the highest honor given to a Yale faculty member. He is also a professor in Yale's School of Forestry & Environmental Studies. 
From 1977 to 1979, Nordhaus was a member of the President's Council of Economic Advisers; from 1986 to 1988, he was provost of Yale University. He has served on several committees of the National Academy of Sciences on topics including climate change, environmental accounting, risk, and the role of the tax system in climate change.
His 1996 study of the economic history of lighting back to Babylonian times found that the measurement of long-term economic growth has been significantly underestimated. He returned to Mesopotamian economics with a study of the costs of the U.S. war in Iraq, published in 2002 before the war began, projecting a total cost as high as $2 trillion. He directs the "G-Econ project," which provides the first comprehensive measures of economic activity at a geophysical scale.
Nordhaus is current or past editor of several scientific journals and has authored many books, among them "Invention, Growth and Welfare, Is Growth Obsolete?"; "The Efficient Use of Energy Resources"; "Reforming Federal Regulation"; "Managing the Global Commons"; "Warming the World"; and (jointly with Paul Samuelson) the classic textbook "Economics," whose 19th edition was published in 2009. His book on economic modeling of climate change, "A Question of Balance," was selected by Choice magazine as an Outstanding Academic Title of 2008. His most recent book, "The Climate Casino: Risk, Uncertainty, and Economics for a Warming World," was published in 2013.
Nordhaus was the first chair of the Advisory Committee for the Bureau of Economic Analysis and of the American Economic Association Committee on Federal Statistics. In 2004 he was awarded the prize of "Distinguished Fellow" by the American Economic Association (AEA). He served as president of the AEA for 2014–2015 term.
Nordhaus is a member of the National Academy of Sciences and a fellow of the American Academy of Arts and Sciences. He is on the research staff of the National Bureau of Economic Research and the Cowles Foundation for Research at Yale and has been a member and senior adviser of the Brookings Panel on Economic Activity, Washington, D.C., since 1972. He served as the chair of the Board of Directors of the Boston Federal Reserve Bank from 2014 to 2015.
He received the BBVA Foundation's 2017 Frontiers of Knowledge Award for his work on climate change. 
Nordhaus lives in downtown New Haven with his wife, Barbara, an assistant clinical professor for social work at the Yale Child Study Center.
Video: William Nordhaus on the economics of climate change
Class Year: '72
Nordhaus recognized for pioneering climate-change economics

Post date: 01/09/18

By Michael Cummins, Yale News
William Nordhaus '63 B.A., '72 M.A., Sterling Professor of Economics, has been awarded a BBVA Foundation Frontiers of Knowledge Award for his pioneering research on the economics of climate change.
The annual awards recognize significant contributions in the areas of scientific research and cultural creation. Nordhaus received the award in the climate change category. According to the award citation, Nordhaus founded the field of climate-change economics by "pioneering a framework that integrates climate science, technology and economics to address the critical question: What should the world do to limit climate change?"
Since the 1970s, Nordhaus has developed economic approaches to global warming, including the construction of integrated economic and scientific models (the DICE and RICE models) to determine the efficient path for coping with climate change. These models are widely used today in research on studies of climate-change economics and policies.
"Nordhaus used his models and economic insights to illuminate such considerations as the role of discounting future climate damages, the risk of catastrophic damages, and the role of technological change in the energy system," the citation states. "Owing to the transparency and simplicity of his approach, his models are used worldwide to analyze climate policy options."
From 1977 to 1979, Nordhaus was a member of the President's Council of Economic Advisers. He has served on several committees of the National Academy of Sciences on topics including climate change, environmental accounting, risk, and the role of the tax system in climate change. He served as the chair of the Board of Directors of the Boston Federal Reserve Bank from 2014 to 2015.
Nordhaus has written many books, among them "Invention, Growth and Welfare, Is Growth Obsolete?" and "The Efficient Use of Energy Resources." He co-authored (with Paul Samuelson) the classic textbook, "Economics," whose 19th edition was published in 2009. His book on economic modeling of climate change, "A Question of Balance," was selected by Choice magazine as an Outstanding Academic Title of 2008. His most recent book, "The Climate Casino: Risk, Uncertainty, and Economics for a Warming World," was published in 2013.
Bruce Bolnick Now a Bostonian

Post date: 10/14/17

Semi-retired and moved to Boston area in 2013 from position as Chief Economist, International Group, Nathan Associates Inc. in Arlington VA. Prior to joining Nathan I was a Senior Associate at the Harvard Institute for International Development. Previous life in academics included faculty positions in Economics at Northeastern, Duke and University of Nairobi. Also served as overseas advisor to finance ministries and/or central banks on HIID programs in Zambia, Malawi, Mozambique and Indonesia. Last overseas posting was as Chief of Party for a USAID project in Zimbabwe, through Nathan Associates. 
Bolnick, Bruce
Class Year: '75
Joseph Altonji wins IZA Prize in Labor Economics

Post date: 05/17/18

By Michael Cummings
Yale economist Joseph Altonji has been awarded the 2018 IZA Prize in Labor Economics to recognize his seminal contributions to the economic analysis of labor supply, family economics, and discrimination.
"Altonji's contributions have shaped the understanding of how households decide on their labor supply under fluctuating business cycles and changing labor markets, whether the family is the relevant unit of economic decision making, and what the mechanisms behind labor market discrimination are," the award citation states. "An overarching theme of his work is that even the most insightful and fundamental theoretical advances must be supported by rigorous empirical evidence."
Awarded every two years by the Bonn-based Institute of Labor Economics (IZA), the IZA Prize is meant to stimulate research that seeks answers to the important labor market policy questions of our time.  It will be formally conferred during IZA's 20th anniversary celebrations in Berlin on June 28. Previous recipients include renowned economists such as Dale Mortensen and Christopher Pissarides, who each later received the Nobel Prize.
The IZA Prize Committee consists of seven distinguished economists, six of whom are previous IZA Prize recipients.
"Picking Joe Altonji as this year's IZA Prize winner was an obvious choice. His profound contributions to several important areas of labor economics — his concern about taking economic theory and measurement seriously — made the selection committee's job very easy," said IZA network director Daniel Hamermesh, who chairs the committee.
Altonji '75 B.A., the Thomas DeWitt Cuyler Professor of Economics, studies questions concerning immigration, race, and gender in the labor market, wage determination, labor supply, and economic links among family members.
In July, he will assume the role of president of the Society of Labor Economists, a professional organization composed of nearly 800 members that promotes the field of labor economics. He is an elected fellow of the Econometric Society and the American Academy of Arts and Sciences. He has served on a number of government advisory panels, and currently is a member of the U.S. Federal Economic Statistics Advisory Committee and the National Science Foundation's Social, Behavior and Economic Sciences Advisory Committee. He is a research associate at IZA as well as at the National Bureau of Economic Research.