Tuesday, November 7, 2017
Kaivan Munshi, Frank Ramsey Professor of Economics at the University of Cambridge, will present at this year's South Asian Studies Annual Indu Bhatt Lecture. His talk, titled "Missing Girls," explores sex selection through female feticide, infanticide, or neglect which is an extreme manifestation of gender discrimination. The event will be held on Thursday, November 9, 2017, from 6:00 pm -8:00 pm at Henry Luce Hall.
Professor Munshi's research provides an explanation for the disturbing sex selection phenomenon, which was first brought to the public's attention by Amartya Sen over 25-years ago. Sen famously claimed that 100 million women were "missing" in Asia. Although India has made tremendous economic progress since then, we would expect this progress to be accompanied by greater gender equality. However, sex selection has only intensified over time and spread throughout the country.
According to Professor Munshi's research, sex selection is based on the structure of the caste-based marriage institution in India and its interaction with economic development. Through empirical evidence, based on new data, his research indicates that sex selection is not confined to a few castes (jatis) or a few districts, as commonly believed, but may be a more pervasive phenomenon among relatively wealthy households in all castes, with accompanying implications for the design of optimal policy.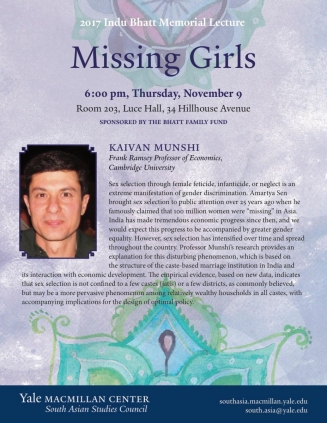 Professor Munshi's research career has been devoted to the analysis of communities and their interaction with economic activity. Much of this work is based in India, where the caste is a natural social unit around which networks serving different economic functions (such as providing jobs and credit for their members) can be organized.
His recent work has examined the effect of community networks on education, health, and mobility, which are key determinants of growth and development. His long-term research program examines the multifaceted role played by informal community institutions in the development process. 
Professor Munshi's current research expands this program in three directions. One project will expand the scope of caste networks from economic activity to community health. A second project will study the assimilation of South Asian immigrants in the United Kingdom over multiple generations. And a third project will explore the community origins of industrial entrepreneurship in India and China.
His research has been published in the American Economic Review, Journal of Political Economy, Quarterly Journal of Economics, and the Review of Economic Studies. He was the recipient of the Infosys Prize in the Social Sciences in 2016. 
The Indu Bhatt Lecture is an annual event sponsored by the South Asian Studies Council, MacMillan Center. The South Asian Studies Council at Yale is committed to promoting a comprehensive understanding of historical and contemporary South Asia.